TAILINGS
Tailings are a by-product of the extraction and recovery of valuable minerals from mine operations. They are generated by the milling process and are a mixture of finely ground sand to clay-sized rock particles, water and processing reagents.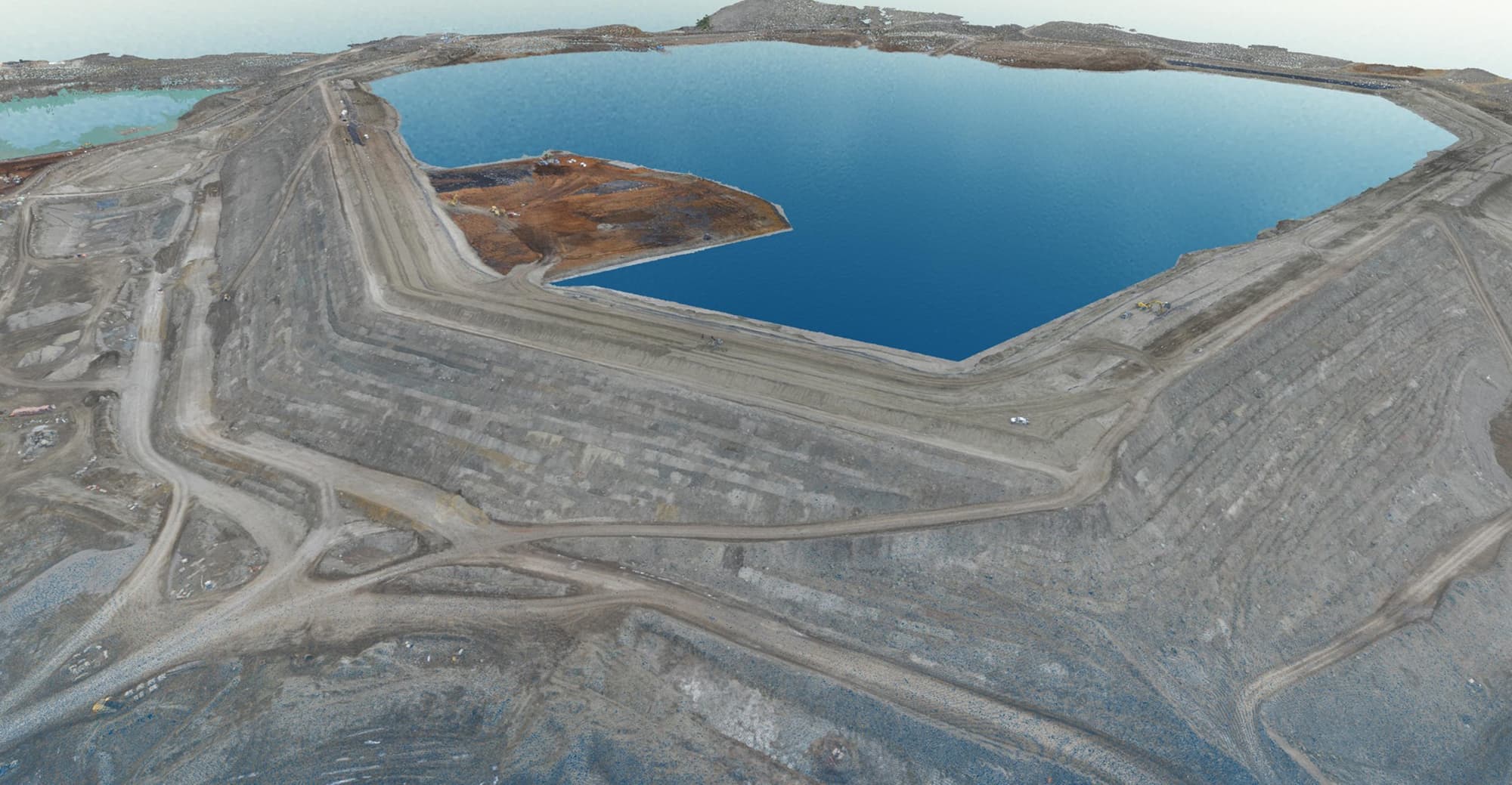 New Gold's Tailings Facilities
Two of New Gold's operations, the New Afton Mine and the Rainy River Mine, have active tailings facilities; there is also an inactive tailings facility located at the New Afton Mine. More information about these tailings facilities can be found in the table below. None of the company's active or inactive tailings facilities uses upstream construction.
Tailings Management at New Gold
New Gold's tailings management practices include the following important features:
| FEATURE | DESCRIPTION |
| --- | --- |
| Design | The designs for New Gold's tailings facilities are reviewed and updated throughout the construction and operations phases and include considerations for closure of each facility. The design of tailings facilities takes into account the climatic and ground conditions at each site. For example, our tailings facilities are designed to consider significant natural events, such as the probable maximum flood, so that the facilities are safe in the event of extreme weather or seismic events. |
| Financial Security | Each site maintains financial security for the closure and post-closure monitoring of its tailings facilities. The financial security is based on approved closure plans, which are developed with stakeholder input. |
| Operations Practices | Each site has an operations, surveillance and maintenance manual (OMS Manual), which sets out, among other things, how the site's tailings facilities will be operated and maintained in order to ensure that they function in accordance with their respective design performance objectives, as well as regulatory and corporate policy obligations. |
| Risk Assessments | Each site conducts regular risk reviews that include tailings-related risks, the key results of which are reported to corporate management at least annually. |
| Engineer of Record | Each site has appointed a qualified external professional engineer and their firm to be the Engineer of Record for its tailings facilities. |
| Surveillance Technology | Sites use surveillance systems, such as piezometers, inclinometers, remote sensing and other technologies to monitor tailings dams and water levels. The OMS Manual sets out early-warning trigger and alert levels, facilitating early identification and management of potential dam stability concerns. |
| Inspections by Personnel | The company's tailings facilities are regularly inspected by trained New Gold employees – sometimes as frequently as several times a day. |
| Dam Safety Inspections | Formal dam safety inspections are conducted at least annually by the Engineer of Record. Recommendations made by the engineer of record are tracked to ensure follow-through by site personnel. |
| Dam Safety Reviews | Each facility is subject to detailed third-party external dam safety reviews every five years, comprising a review of the design basis, construction and performance. |
| Independent Reviews | The company has an independent technical review board (ITRB) to provide independent, expert advice regarding the technical aspects of our tailings facilities. The ITRB meets at least twice per year to review information about tailings management practices at each facility. |
| Emergency Preparedness | Each site has a detailed Emergency Response Plan, which is regularly reviewed and updated. Testing of these plans is conducted by site personnel to ensure they remain applicable. |
As part of New Gold's ongoing management, the company follows the MAC's recommendations in terms of reporting and transparency around tailings management. More on MAC's tailings management can be found on their website.
Tailings Facilities Details
NEW AFTON MINE
RAINY RIVER MINE
NEW AFTON
TAILINGS STORAGE
FACILITY
POTHOOK PIT
TAILINGS STORAGE
FACILITY
HISTORIC AFTON
TAILINGS STORAGE
FACILITY
RAINY RIVER
TAILINGS MANAGEMENT AREA
Tailings Facility

Dam A
Dam B
Dam C
South Dam
West Dam

Cell 1: TMA West Dam, TMA South Dam and Cell 1 Dam (internal)
Cell 2: TMA South Dam, TMA North Dam, TMA West Dam and Cell 2 Dam (internal)
Cell 3: TMA North Dam, TMA West Dam and TMA South Dam

Location

Cell 1: 48.85757N, 94.06726W
Cell 2: 48.86648N, 94.06353W
Cell 3: 48.85860N, 94.04281W

Construction Method

Dam A – Centreline
Dam B – Centreline
Dam C – Centreline
South Dam – Downstream
West Dam – Centreline

West Dam – Downstream
East Dam – Downstream

TMA West Dam: Centreline
TMA North Dam: Centreline
TMA South Dam: Centreline
Cell 1 Dam: Centreline
Cell 2 Dam: Centreline

Design Standard
Canadian Dam Association
Canadian Dam Association
Canadian Dam Association
Ontario Mining Association
Status
Active
Active
Care and maintenance

Cell 1: Active
Cell 2: Active
Cell 3: Active

Current Maximum Height
51 m
10 m
70 m
18 m
Current Storage Impoundment Volume
28,400,000 m3
2,550,000 m3
32,000,000 m3
16,600,000 m3
Most Recent Dam Safety Inspection by Engineer of Record
2020
2020
2020
2020
Most Recent Dam Safety Review
2017
2017
2018
New facility; first review expected 2022
Most Recent ITRB Review
2020
2020
2020
2020
Data as of December 31, 2020
MAC Tailings Management Protocol Scoring
| INDICATOR | NEW AFTON | RAINY RIVER |
| --- | --- | --- |
| Policy and commitment | AAA | AA |
| Tailings management system | AAA | AA |
| Assigned accountability and responsibility for tailings management | AAA | AA |
| Annual tailings management review | AAA | AA |
| OMS Manual | AAA | AA |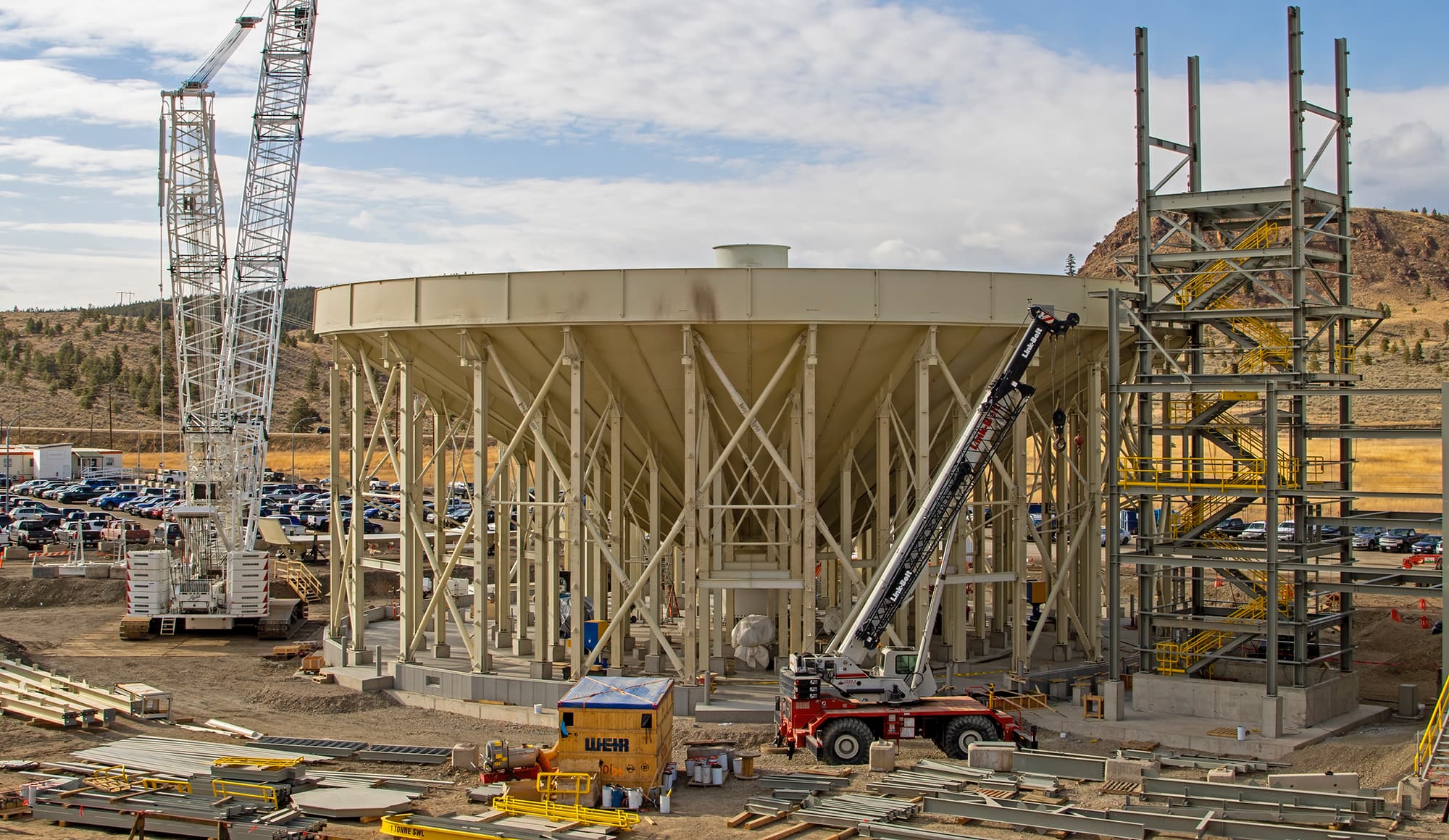 New Afton Thickened Tailings Technology
The New Afton Mine is located in a semi-arid climate where annual evaporation rates exceed precipitation. Traditional mine water recycling, which relies on tailings slurry resonance time frames in the tailings storage facility, is challenging at New Afton due to the large evaporative losses. This places the operation into a net negative water balance, particularly in the dry, hot summer months. This requires the operation to pump makeup water from Kamloops Lake at maximum licence allowances through the entire year to offset those losses and build water inventory when evaporation is low.
Maintaining an accurate water balance model is also challenging due to the high degree of influence of climate on the water available to support the operation. The New Afton team proposed a high-level concept to shift from "settle and store" water management, to an "on-demand" water strategy. This significant change will improve the accuracy of the water balance model, reduce the significant evaporative water losses and ultimately reduce the annual water volume draw from Kamloops Lake.
To achieve the on-demand water strategy, the New Afton team proposed the use of thickened tailings technology. This technology allows immediate dewatering of tailings through a thickener and direct circulation to the mill to reduce tailings pore water and evaporative losses. A field scale pilot project was completed in 2018 and the results of the pilot supported the design. Construction of the thickener is underway, with planned commissioning in Q4 of 2021. New Afton is expecting an overall reduction in annual water volumes withdrawn from Kamloops Lake as a result of implementing the thickened tailings technology.